Hi y'all. Is it weird that I'm back on the Brit-Brit bandwagon? I used to dislike her immensely, what with the no-underwear-getting-out-of-the-car & the head shaving debacle that we will not speak of. But as of late, I gotta admit that I'm totally liking her again. I liked her back before K-Fed, when she was still cute, & had a 'normal' relationship with the people in her life. Those few years that she went all crazytown on us was just...crazy. Let's recap:

Making countless trips to the local gas station in bare feet to use the public restroom. Even I know that's just bunk:




Here she is apparently losing it on the curb of some street in LA. So discreet.




Oh, but we're not done yet. Here she is with some sort of 'medical crisis'. The words Percocet & Oxycontin come to mind.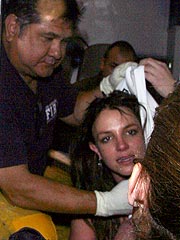 But friends, everyone has their down days. And by days, I mean years. I think brit-brit may be comin around the bend, albeit ever so slowly & sometimes ever so tacky.

When I saw this promo, she immediately jumped off my Sh%* list & corralled around my HaHaCute List:



I will watch the VMAs this year, just so I can see Brit sober, not crying, & actually back to beautiful. That promo makes me want to see what transpires during that awards show. I'm back on board, B.

In other news, did anyone else see this little sweet tart tattoo? Couldn't love it more if I tried.




It reminds me of Ben's tattoo wedding ring, but I don't have a picture of that to show you, darn it all. Here are my thoughts on Levi & Bristol:

1) Levi's a doll so I'm all for him.
2) Bristol's beautiful (which, BTW, so are all of those kids...seriously good genes goin on there).
3) Bristol could possibly be the best name ever (that's Ben's thought...Bristol race, anyone?)
4) Levi was man enough to be with her on her family's huge important night in front of mad press, sit by her side, & stick around to be the baby daddy.
5) They're planning on getting married & raise that child together in a loving environment. Yay.

Let's back up for a minute to those kids' names: Bristol, Piper, Willow, Track & Trig. Holy Mother of All Things Good. Love all of them.

If you've got a problem with any of the above post, please take it up with the Board of Trustees.

See you later, Alligator.